Details on facades
Clinker or face bricks can be applied to the entire surface of the outer wall, or used to offset individual architectural details such as plinths, ornamental posts, lintels or window frames. Bay windows and the front porch entrance can also be stylishly distinguished from the rest of the building, by addition of a brick facing.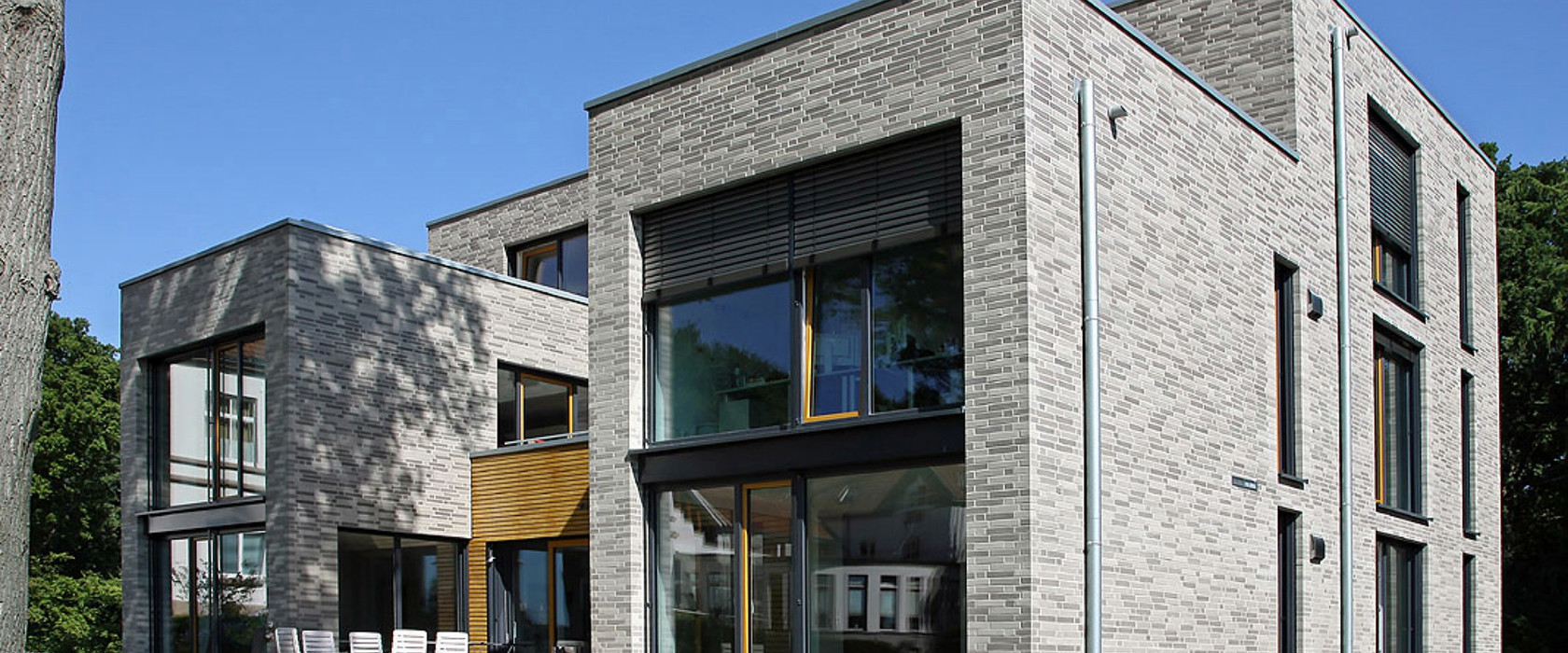 The arguments for using bricks in the above-mentioned places are not only aesthetic, but resulting from technical characteristics of the ceramics.
The front wall, with the entrance to the building, is often the most representative part of the building. We can highlight it in many ways, for example by means of body design, color selection and use of contracting building material.
For the followers of the simple styles, bodies without unnecessary adornments, the way to highlight the entrance may be through using face brick or clinker to frame the doors. More complex projects may involve an eave-covered portico, ornamental pillars, an interesting concept for the entrance stairs. These are the characteristics of the "Zenobia" project, where the front entrance is decorated with clinker facade tiles.
In order for the entire design to be visually cohesive, the same roof tile model should be used for the roofing of the portico. Entrance stairs can also be built of clinker or face bricks of the same color as pillars or plinths. Another element of the building, often distinguished by the use of facade bricks, is the socle.
The basic function of the socle is protection from moisture and dirt from the ground, but an interesting socle display can further enhance the aesthetic qualities of the whole house. An illustration of such a case may be the "Ludmila" project – here, brick socles not only protect the ground-level part from dampness, but also harmonize with the outdoor fireplace, faced with brick of the same color.
Face or clinker bricks may be used for socle finish or, an even easier solution – facade tiles glued to the surface. Both bricks and tiles will form a protective layer on the ground-level surface of the outer wall, securing it against mechanical damage and adverse weather conditions. An effective way to diversify the body of the house is a bay window, slightly protruding from the wall surface. We can distinguish a bay window by using a brick finish. With a plastered wall, the brick finish of the bay window will create an interesting visual effect.
Brick is also the ideal material for construction of external window sills. Particularly frequently used here are suitably shaped bricks, equipped with drips which protect the wall against dampness.
Arch. Anna Marcjasz
Pracownia Projektowa Archipelag