Mariusz Włazły's home
In harmony with nature
Close to family and nature, and in a quiet neighborhood – this is what the home of one of the best Polish volleyball players, Mariusz Wlazły, looks like. Ecological and resident-friendly building is being constructed in a small village by the Warta river.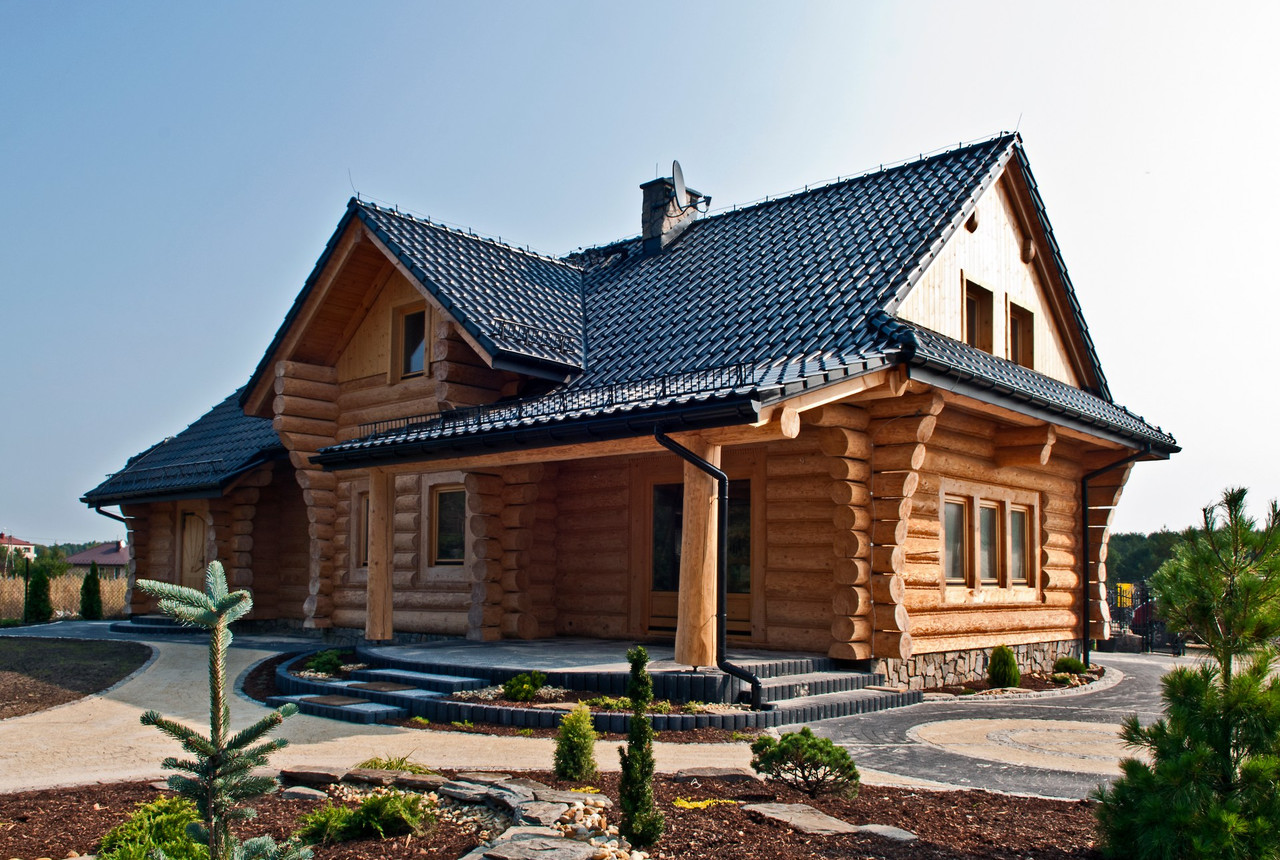 Mariusz Włazły is one of the most awarded volleyball players of the young generation. He started his sport career from swimming, but he changed his discipline and in 2003, he won the world championship of juniors with the representation of Polish volleyball players. Currently, he is the captain of the PGE Skra Bełchatów club, which won the Polish Championship many times. In addition to sports, he is involved in helping sick children, e.g. through cooperation with Herosi, Możesz and Dr Clown. Privately, he is just finishing building his house, where he is to live with his wife Paulina and their two-year-old son Arek.
Why did you decide to live in a detached house?
A single-family house has many benefits. The first one is our own large garden. We do not have to worry about troublesome neighbors from behind the wall, which could happen if we lived in a block of flats or a tenement house. We would not be able to have a fireplace there either. However, a house also involves duties, such as snow removal in winter, and watering and mowing the grass in summer. I like these tasks because they make me relaxed. This work gives a lot of satisfaction and allows me to de-stress after a hard competition.
Where is your house and what factors affected the choice of its location?
We wanted to be close to the family, so we decided to live in the village of my wife's parents. Big cities can be tiring, and I value peace. After an important match, I can sit in front of the fireplace and regenerate. Such clean environment also has a good impact on our two-year-old son, Arek, who likes family walks in the nearby forests.
What made you choose this particular design?
There were several factors, including the number of rooms, total area and external appearance. It was also very important for us to have a fireplace in the central part of the building. Above all, technology made us decide on many aspects because our house is made of logs. It excluded e.g. designs with envelope roofs. We also wanted an open kitchen and a mezzanine. All this was possible owing to the designer – a native highlander who also lives in a log home.
When did the construction of the house begin and has it already finished?
The first works started in March 2010. The building has not yet been completed. At the beginning we did not have much luck and we often came acRoss "professionals". Then we had to make many corrections, which is why the construction was delayed by about half a year. We can already live in the house, but we are still working on it because some interior and home furnishings are missing. However, now we can enjoy its charm. What we find the most pleasant is the smell of wood from which the building was made.
Can you tell us more about the walls?
We focused on ecology, which is why we decided to use logs. They are made from solid wood by means of a traditional method. They are 30 cm in diameter and most importantly, each of them was made by hand. Unlike logs made using a lathe, these have a unique shape and are not so smooth. We used mossing to seal them. This traditional material required a lot of work, but the final effect surpassed our biggest expectations.
What kind of roofing did you use?
The log house is timeless, so its roof must have the same feature. Once again, we chose proven, traditional solutions and selected ceramic tiles, because we are sure that the roof will survive for generations. We decided to use the Röben Fleming tile. In terms of color, my wife, Paulina, had the last word. She chose a black and brown shade that fits perfectly with the wooden structure of the house.
Does the house have a usable attic?
Of course! I cannot imagine that I would not be able to use such a large free space. The house must be roofed anyway, and as a result we gained more square meters, on which we arranged additional rooms. It would be a pity to waste such space.
Does the building have any unique technical solutions?
Already at the design stage, we decided to be practical, which is why we resigned from having a pool. Our climate is not conducive to its maintenance, besides, you can always buy a portable structure, which you can store away for the winter. However, a barbecue gazebo, an outbuilding, a woodshed and a bike room will be useful.
What do you like the most in the whole house?
Our favorite place is the living room with the fireplace, which I mentioned earlier. We also like to spend time on the covered veranda. I really like the finishing of the ceiling. Maybe because I laid it myself? This is my work and I am very proud of it.
What kind of garden care works do you like most?
Basically all. Mowing grass, pruning trees, watering and planting – these activities are my escape from everyday life. I also like DIY. I find great pleasure when I do something myself. It does not matter if it is a wooden flowerpot or a large chest. Home is my passion, that is why I carefully choose materials and elements for its finish.
What was the biggest challenge during construction?
Of course the previously mentioned "professionals" and what they left behind. Now we know we have to choose the contractors more carefully. As we say, a Pole is wise after the event.