Glass castle on the water
"The combination of a fourteen-millimeter thick tile with the thermal insulation system allows for the construction of a thin wall without maintenance costs and meets all the safety guidelines and the provisions of EnEV (Energy Saving Ordinance)" Design: Dana Malzahn-Knauer – Architect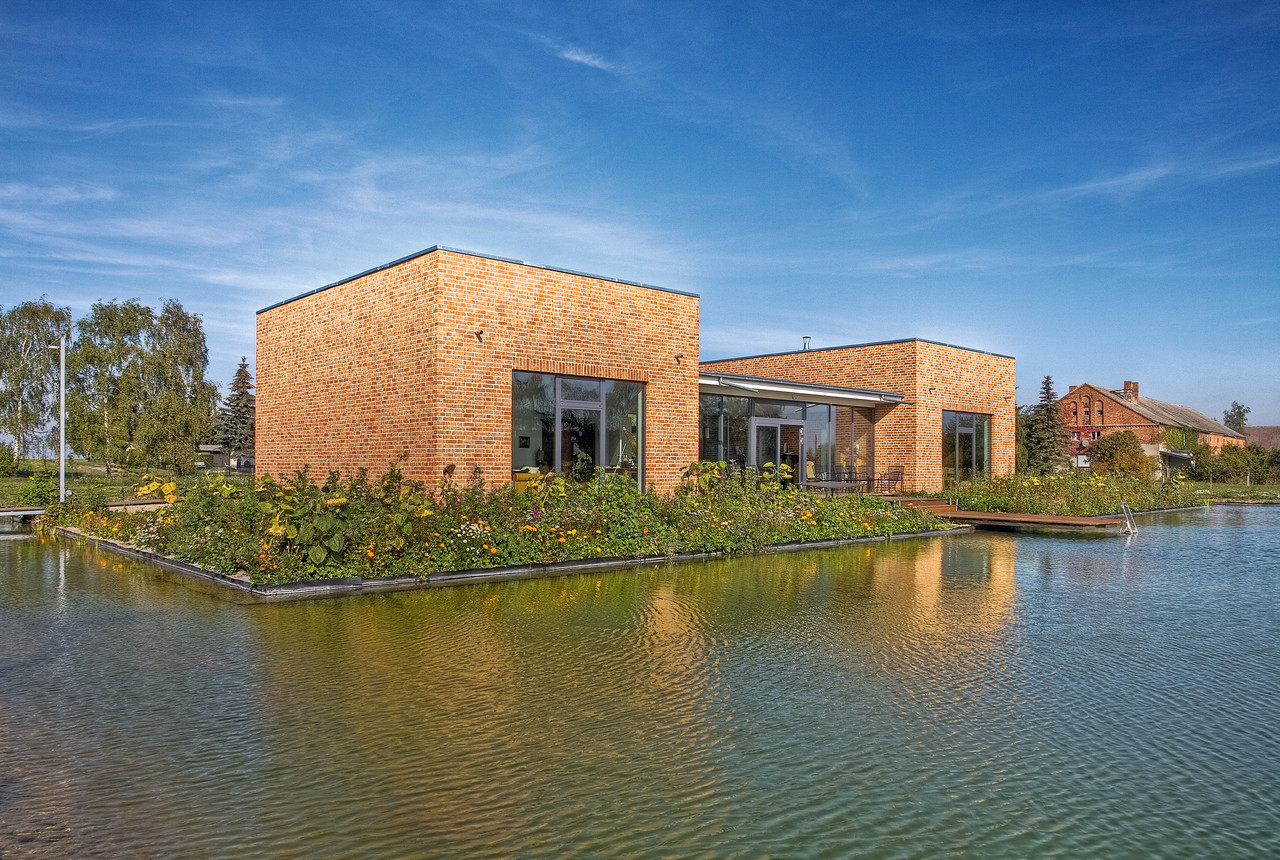 In Brandenburg Wattin, directly at the border with Mecklenburg-Vorpommern and Poland, the Berlin architect Dana Malzahn-Knauer created a luxurious holiday home for herself and her family. In order to design a building that is a private oasis and create a balance with the adjoining, large warehouse, the architect designed the house as a modern "water castle" and placed it on a small island located on an artificial lake. The access to the house is provided by a path that can be closed by lifting a drawbridge.
According to the designer's idea, a holiday home should provide privacy and, on the other hand, be connected with green outdoor areas. To optimally combine these two aspects, Dana Malzahn-Knauer designed two massive brick cubes that are joined by a glazed connector and thus, look like defensive towers on a small island. There are bedrooms and sanitary rooms in both cubes. The glass connector creates an airy living space, a dining room with an open kitchen and a view of the lake and the beautiful Uckermark landscapes.
To make the character of the building refer to the existing state of buildings in the town, it was obvious from the very beginning that its façade should be covered with clinker. The selected hand-molded yellow, sand, shaded face tiles MOORBRAND from the Röben company shape the interior of the glass living spaces, impress with their surface structure and color, and naturally place the building in its surroundings. "The combination of a fourteen-millimeter tile with the thermal insulation system allows for the construction of a thin wall without maintenance costs and meets all the safety guidelines and the provisions of EnEV (Energy Saving Regulation)", explains Dana Malzahn-Knauer. Through an appropriate selection of the grout, which takes on a bright warm hue, the craft nature of the hand-molded face tiles laid in the wild bond is emphasized.