Excellent connection – Hermes administrative building in East Westphalia
Hermes Einrichtungs Service (HES) belonging to the Hermes group has over 50 years of experience in providing logistics services in the field of supply for retail customers.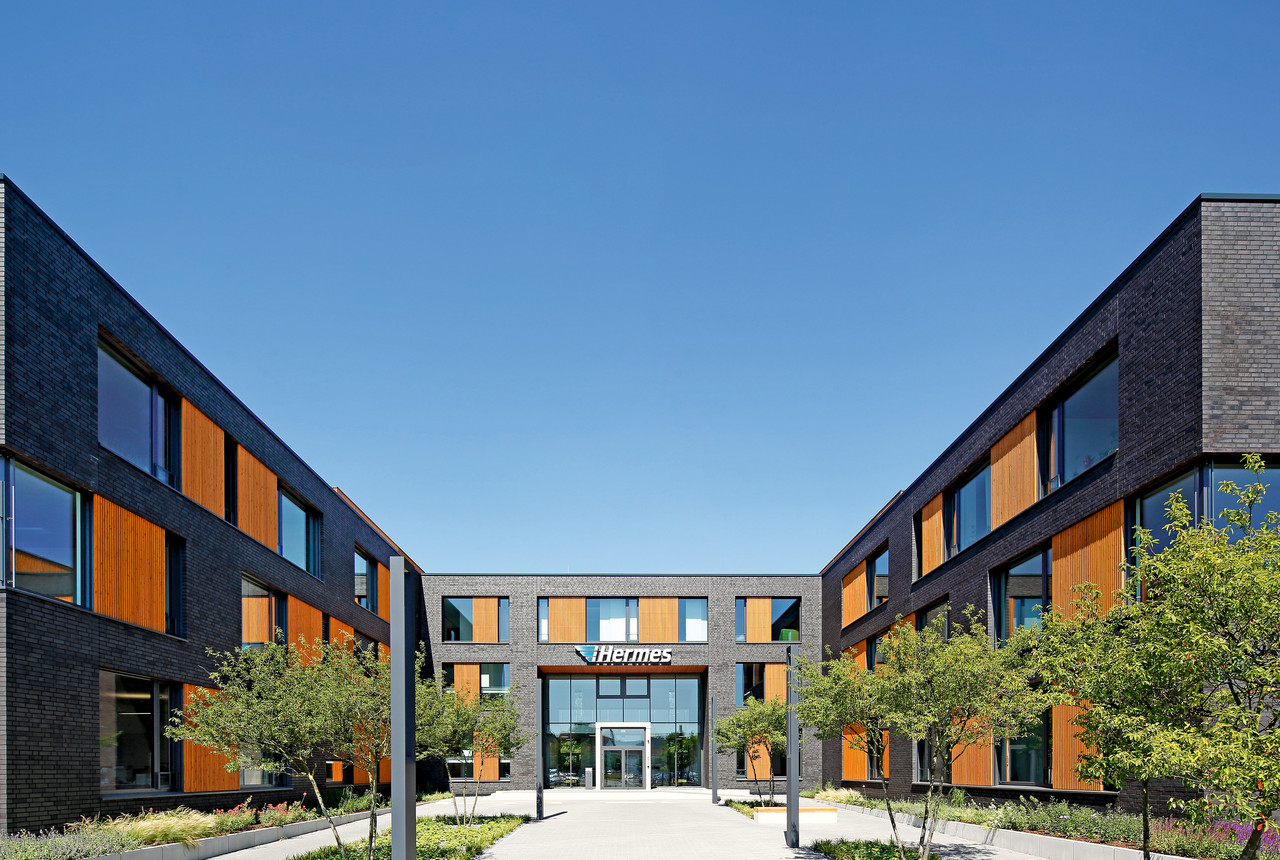 The company erected a new administrative building in the Eastern Westphalian of Löhne. The clinker façade designed by the architectural office h1 plan from Bünde covered the building with a total area of 6,200 square meters, housing HES rooms that were in three different locations up to then. In addition to the offices, the building also includes training rooms and a canteen for employees. It is currently the new company headquarters.
The investment has a beautiful location, the plot runs south between Albert-Schweitzer-Straße and borders the Werre River in the north. The complex consists of two three-storey buildings, which are open to a connection construction located centrally. "In the west, there is a single-storey canteen and a two-storey training center, and there are rich high quality courtyards, located between the individual building structures" – this is how the architect Jörn Haubrok describes the concept. The characteristic shades and the shimmering surface of the clinker brick used on the façade, as well as its juxtaposition with horizontal window bands made of larch formwork, create a unique, diversely designed façade of the building. When choosing the right façade coverage, the designers decided to use the SYDNEY clinker in a standard format from Röben. Clinker tiles used in any bond and treated with dark gray grout present a modern look that at first glance, reflects high requirements of the Hermes group. "We liked the particularly warm gray-anthracite color and lively, shiny surface," Jörn Haubrok explains why his office decided to use this particular material. High energy efficiency of the investment complements the design. A highly insulated clinker façade, a geothermal system for heating and cooling, controlled ventilation with heat recovery, LED lighting installation and rainwater use, allows to save energy and resources in accordance with the guidelines of the German Society for Sustainable Construction.