A modern and stylish library in Rokietnica
Rokietnica, located in the Greater Poland region, is one of the fastest growing municipalities in the Poznań district. It is here, in a small commune with about 16 thousand residents, where a public library with a retail and service part was recently released into use.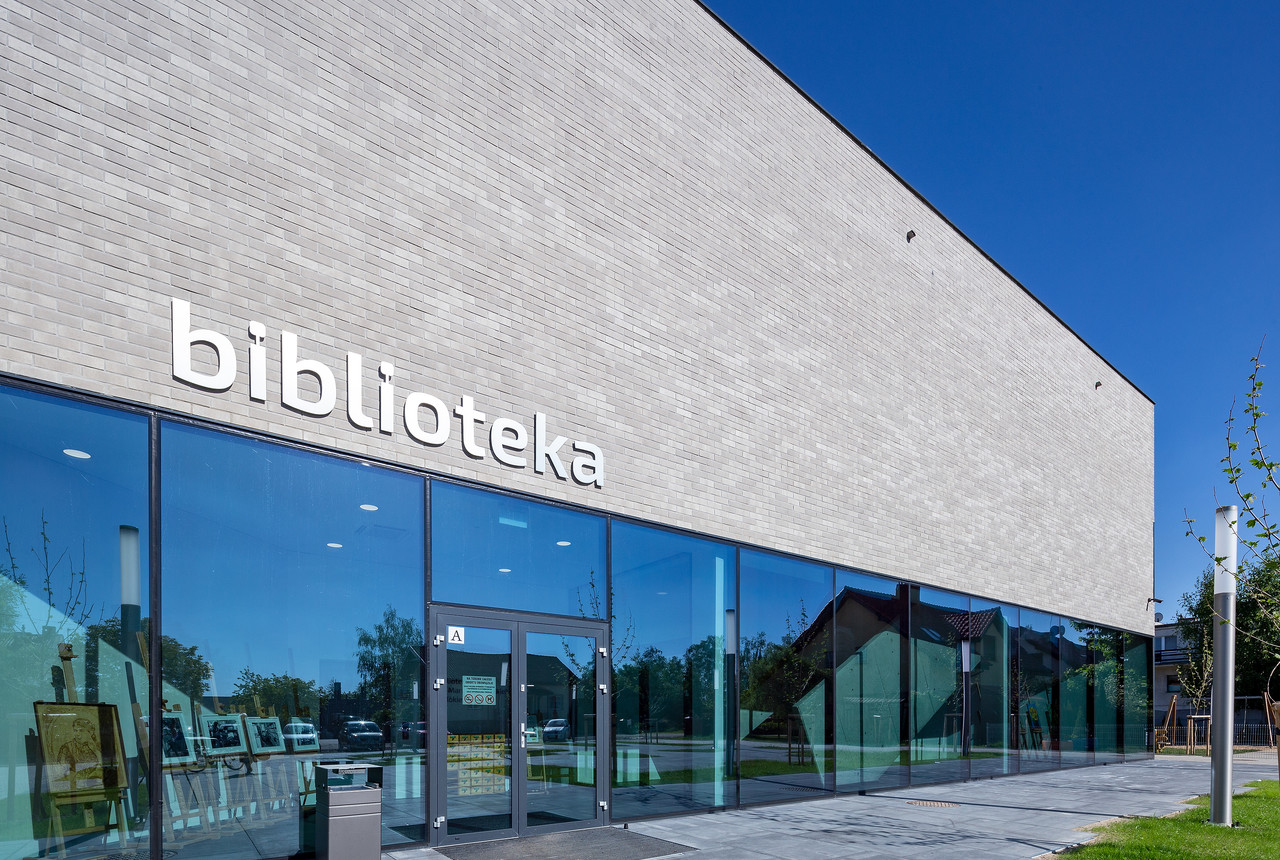 The building was designed by the architect Dominik Banaszak from the Lab 3 Architekci studio. It stands out with its timeless aesthetics, a simple and at the same time expressive form referring to modernism, which was an inspiration for the author of the design. Owing to the use of ecological solutions and materials, such as, for example, clinker tiles, the building is friendly not only to readers, but also to the environment. The new headquarters of the library is a modern, creative space – an indicator of high quality and a very good design workshop for Polish architecture.
Architectural layout
The building combines two functions, a library with a retail and service space. The division of investment, carefully thought out by the architect, as well as the provision of independent entrances very clearly separates them – the ground floor has been designed for commercial lease space, and the first floor for the library. The body of the building is simple, economical in form, but at the same time expressive, owing to the spiral, fan-shaped stairs located on the terrace. "The fan-shaped technical stairs, leading to a green roof with an observation deck, are a counterpoint for a consistently cubic form", says the author of the design, architect Dominik Banaszak. When it comes to the interior, apart from the perfectly illuminated large windows and the collection of books covering several hundred square meters, the most characteristic element is the main entrance stairs to the library. "There is a monolithic concrete staircase leading to the rooms of the library on the first floor, which complements the front façade. It is the only compositional element deviating from the orthogonal grid of the structural layout of the building. This solution was aimed at marking the viewing axis, the closure of which is the church tower – the only height dominant in the town", adds the architect.
Sustainable and ecological façade
Looking closely at the library building, we can see that every detail has been carefully thought out and refined. To maintain the appearance of the façade for many years and ensure color durability, the designer decided to cover the façade with a gray-white, shaded AARHUS clinker plate from Röben, which has a unique, rough and uneven texture of the face. The clinker provided the building with a touch of the Scandinavian style, and the shading allowed to achieve the effect of the play of colors. The materials used are in line with the ecological construction trend. The designer focused on ceramic materials both at the production and operation stage, since they are safe for the environment.