A modern hotel in the center of Białystok
Hotel Esperanto is a building that refers to the modernist pre-war architecture of the city. The object continues the tradition of a metropolitan, representative buildings of Białystok, but at the same time, it is a modern object that draws the attention of many passers-by.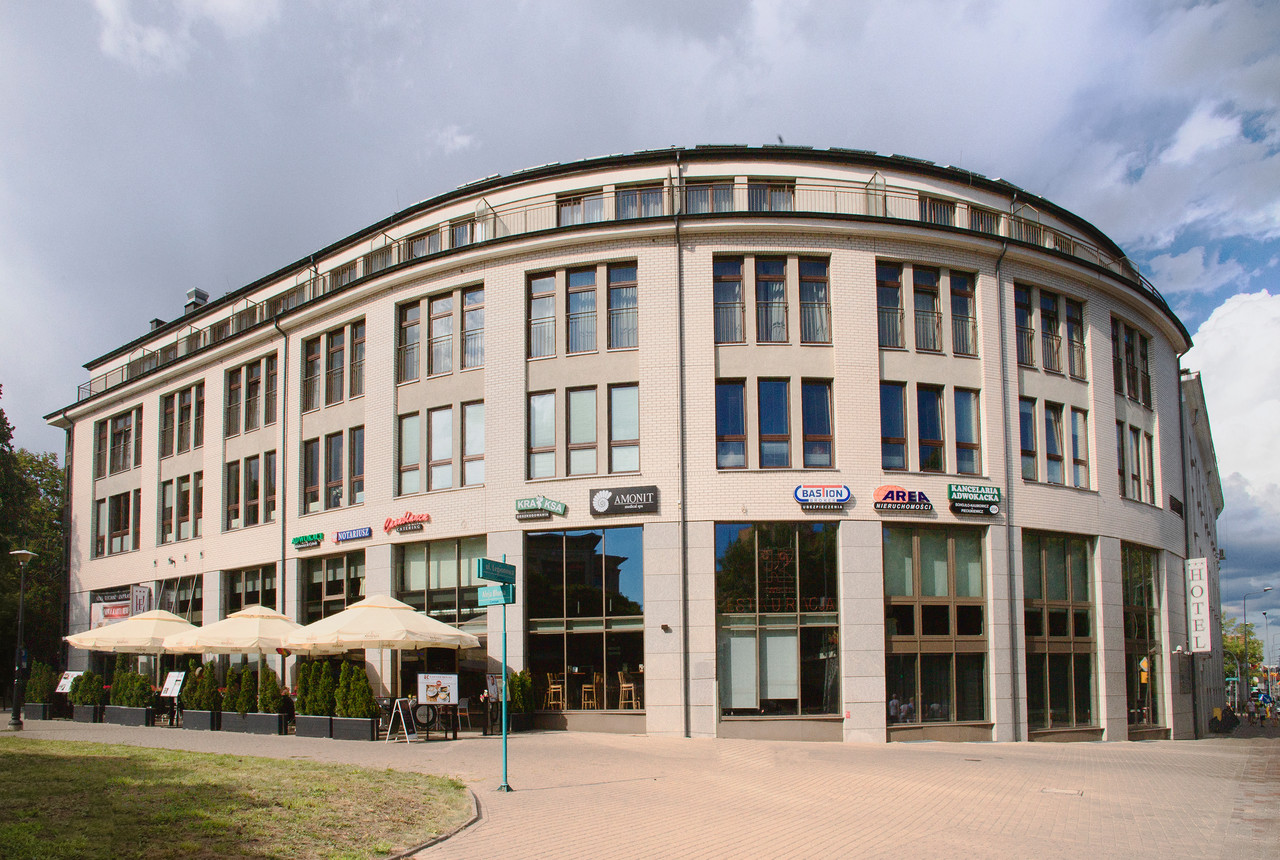 A three-star Hotel Esperanto, which is a comfortable and intimate property, is located in the very center of the city, only 100 meters from the main market square. In the immediate vicinity, we will find the Branicki Palace, called the Versailles of Podlasie, and the largest municipal Park Planty.
The five-storey building is located at 10 Legionowa Street. The hotel was opened in the second half of 2012. By adjoining the Provincial Sanitary and Epidemiological Station, it creates a frontage along the Sienkiewicza and Legionowa streets. The station "is bent" by means of an arc from the Legionowa Street into the Sienkiewicza street, while Esperanto passes into the Blues Avenue.
Hotel Esperanto was designed by a team of architects, Piotr Łodziński and Zbigniew Baum from Prosper Studio, which has already prepared several other designs important for the architecture of Białystok, such as the modernization of the BCMB office building at the Sienkiewicza street or the concept of a new tenement at the junction of the Jana Kilińskiego and Legionowa streets, which is supposed to close the view axis from the Kościuszko Square towards the gate of the Branicki Palace. As the architects said, "When designing the Esperanto Hotel, the most important thing was to embed the building into a row leading from the Kościuszko Square to Bulwary Kościałkowskiego, while opening to them. It determined the oval façade line. The shape of the building may be subconsciously associated with the pre-war Ritz hotel, although this was not our intention. We opted for a simple architectural form, referring to the neighboring monumental buildings, we wanted it to be a public building."
The first two floors of the building are made of stone, the higher ones are made of pearly white clinker brick OSLO from Röben, and the last storey is plastered. "The highest storey of the building has been further moved back so that when going from the cRossroads of the Legionowa with Skłodowska-Curie streets, we can still see the view of the towers of the cathedral", adds the architect Zbigniew Baum. The facility has a restaurant, a stylish pub, conference rooms, hotel and a business space with a total area of over 1500 m2. In the case of this investment, the use of clinker materials completed the design and added elegance.