Housing estate in Oldenburg
Pearl Necklace
One of many short avenues of the over 150-thousand people city in the north-west of Germany has been enriched with a series of stylish and lively two-family houses, whose façades have been made of two types of Röben facing bricks.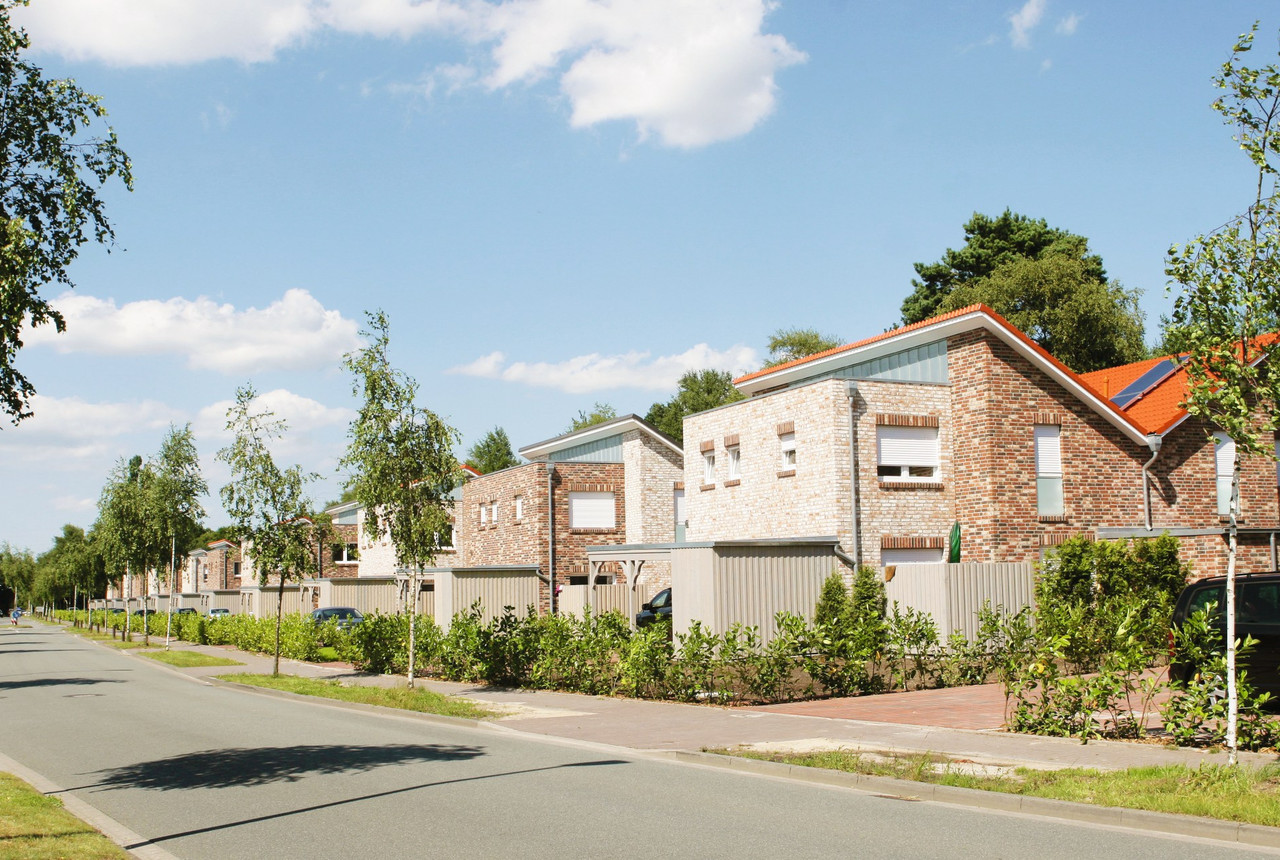 Driving along the Station Avenue in the Lower Saxon Oldenburg, you will see a long series of semi-detached houses with a clinker façade. A small rupture in the street makes it almost impossible to see the end of the avenue from its beginning, and the vastly stretching buildings resemble a pearl necklace. All houses are located in a quiet area between the Station Avenue and the Oldenburg-Osnabrück railway route.
Unique arrangement
This unusual housing estate was designed by the Metzger & Mohr Design Office in cooperation with the Dom22 Architectural Office located in that town. It includes 15 two-storey semi-detached houses with an area of 104 m2 for each residential unit. The distinctive element of the entire project is the unusual structure of each house. Two-storey, flat-roofed buildings with a roofed annex replacing the garage are attached to the main structure of the building, covered with a mono-pitched roof. In this way, individual mono-pitched roofs interact with the other half of the house, supplementing one another in the form of butterfly roofs, which are characterized by an inversion.
Regular proportions
The structures of the houses are emphasized by the diverse and lively form of the façade finished with two different types of face bricks. To highlight the effect, they were applied on the neighboring main and side planes of the building. In addition to the hand-molded shaded Flemish face brick Röben Dykbrand, a clearly brighter, hand-molded silvery-white face brick Röben Geestbrand was used. The bricks in a standard format and in "wild" bond with irregularly embedded stretcher brick and a light gray joint were used to make the façade. This solution enabled to emphasize the fresh and dynamic impression of the whole building. The combination of two different bricks allowed to accentuate the interesting and at the same time, coherent structure of houses, which makes them stand out from other housing estates. The buildings meet all the parameters of high thermal insulation, moreover, they are equipped with solar collectors on the roofs and a controlled air and exhaust ventilation with energy recovery system.