Around the house
House surroundings are as important as a properly built and finished functional house. This includes both communication solutions, and types and quality of finishing materials. Designing and finishing the house surroundings are the final touch of our work, since thinking about a new house all the way to moving in.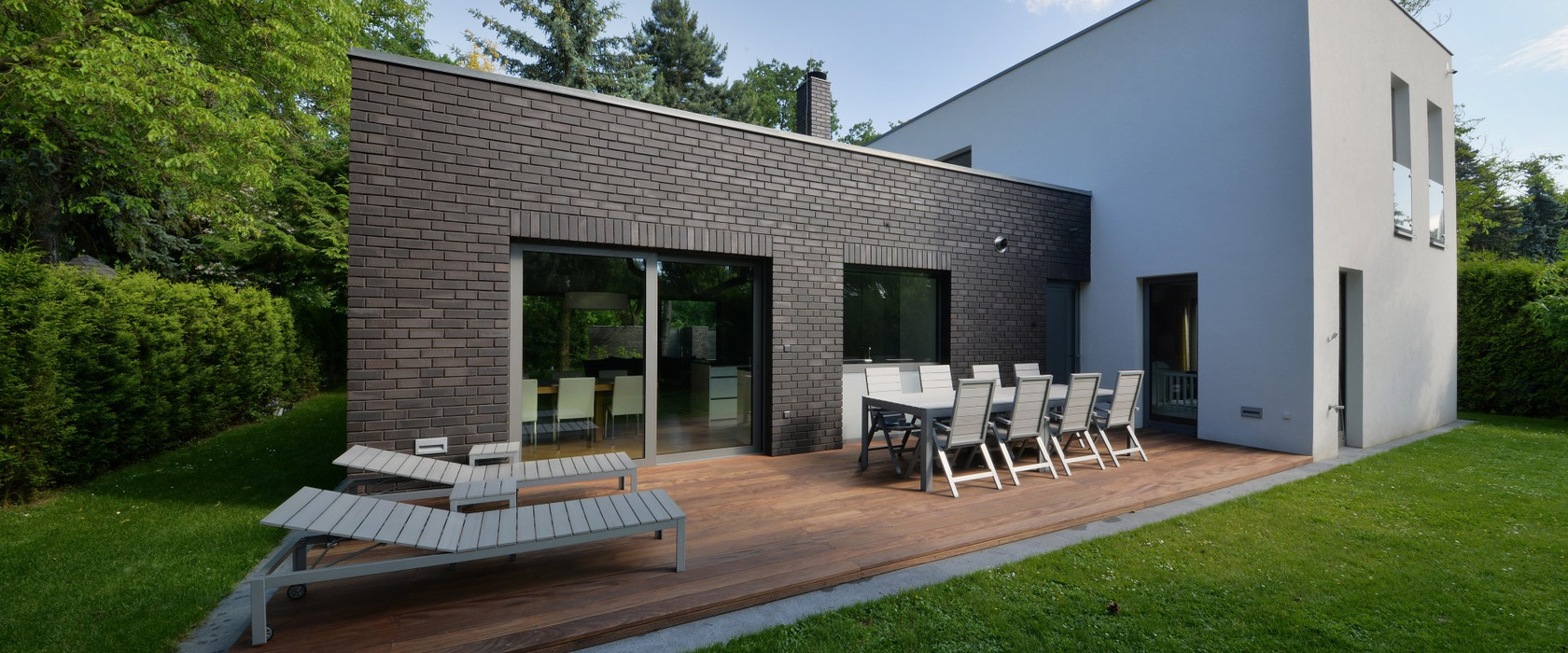 Properly designed and realized traffic routes paved with cobblestones will be a convenient surface for pedestrians, as well as driveways for cars and other vehicles running on our plot. Reinforced surface prevents mud creation, keeps our estate clean and allows (when the surface allows) for rainwater and snowmelt drainage. For reinforcing walkways and driveways, a suitable material should be used. Lower loads allow us to use 6.0 cm (2.5") thick cobblestone, whereas driveways and car roads are made best with dedicated 8.0 cm (3.5") stones. Paving directions should be kept the same, so there is no need to cut the stones. The most convenient way to pave different types of surface is to match the surface width with multiplied cobblestone and joint (4mm/0.15") width. Fill the joints with fine sand or external grout.
Another important element of the surroundings is the fence. It protects us from unwanted guests and is kind of a frame of our lot. It can be made of mesh of metal panels between clinker poles. Where the zoning permit allows for full fence, you can make a clinker or stone brick wall.
Remember, however, that this wall would have to correspond to walls and pedestals of the house. This will create a unified form and material. Another thing to remember is to cast concrete foundations for fence poles and reinforce the poles. A good solution is to put roof over the poles, by using hoods – ready elements suiting the colour and material of the fence.
Street furniture will make a good-looking and useful completion of our surroundings, such as pots around terrace or a stone grill. Building a gazebo or a small tool shed, we can make their elements, e.g. pedestals and bedding out of clinker brick matching our stairs, fence or pedestal. Construction of all the elements under watchful eye of a good designer, solid contractor and with high-quality materials will make dreams of all investors wanting a beautiful house with matching surroundings come true.
Arch. Krzysztof Własiński
Design Studio ARCHETON